And Just Like That... Season 2, Episode 6 Fashion Recap: Walking in a Widow Wonderland
Despite the fact that just a few episodes ago, Charlotte and Lisa were dropping their kids off for camp, it's now wintertime in the world of And Just Like That..., which means the summer dresses and linen pieces have been replaced by wool coats and lots of leather. The timeline for AJLT has been aggressively fast, with months going by between each episode. That does help with the episodic nature of the show, something AJLT failed to embrace until recently. But while the storylines in the last two episodes were vacuously amusing in the classic SATC way, the plot points in "Bomb Cyclone" are so trite, I can't help but wonder, what's the point? Why do we care that the Todd Wexleys are juggling their busy schedules? Why did we need two scenes surrounding the search for a Hamptons house? Is the most interesting thing in Charlotte's life at the moment that her daughter wants to have sex?
That's not to say "Bomb Cyclone" is a total, well...bomb. Yes, the episode does feel weak in a few points when it came to both the fashion and writing, but there are still a few fun moments, like Rachel Dratch's cameo, or watching Charlotte trek through the snow screaming about condoms. And while the volume of clothing is lower this episode, co-costume designers Molly Rogers and Dany Santiago make up for it in the second half with those snow day ensembles from Carrie, LTW, and Charlotte. Below, we break down the episode of outfits, and share some insight into how Carrie's Moncler x Valentino moment came to pass.
Episode Six: Bomb Cyclone
Photograph by Craig Blankenhorn/Max.
Roomies Miranda and Nya are still getting comfortable with their new living arrangement, which has officially transformed their former teacher-student relationship to two gal pals who sip coffee on a Sunday morning in their pajamas.
As Miranda rolls out of bed in her heart-covered Victoria's Secret jammies, she finds Nya working on her divorce papers, impressed that the law professor is taking on the task by herself. In this moment, I actually forgot Miranda used to be a lawyer and could, ostensibly, also handle her own divorce. It's a reminder of how far this current portrayal of Miranda feels from the Sex and the City original, but it's also fairly irrelevant considering Miranda and Steve are nowhere near discussing the "d" word at this point.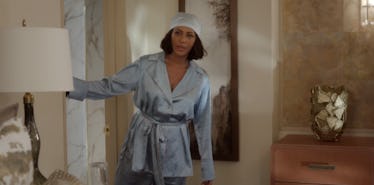 HBO
Speaking of pajamas, of course Lisa Todd Wexley has the chicest set of all. The woman—who is slowly becoming the style saving grace of the season (apart from a few misteps)—wakes up in her crinkled charmeuse Danielle Frankel lounge set and jumps into a debate with her husband over their competing schedules. Herbert has a campaign event on Wall Street (I keep forgetting he has a C-plot where he's running for some elected position), but Lisa has a talk at MoMA following a screening of her film. The politics of the Todd Wexleys is becoming increasingly inconsequential, but I will take any opportunity to see more of LTW's wardrobe.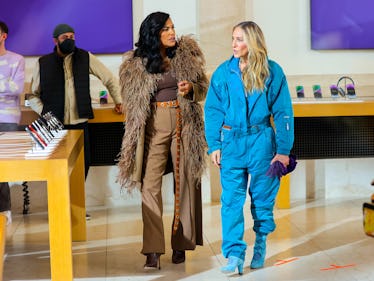 Jose Perez/Bauer-Griffin/GC Images/Getty Images.
Carrie starts off episode six with a video chat to promote her new book, using a few coffee table books and the box of a to-be-returned purchase to perch her laptop in a dubious position. Just as the interview begins to falter, so does her make-shift laptop stand. And right as the interviewer eschews conversation of Carrie's late-husband for the content her followers are really jonesing to know ("So, girl, what lipstick shades are you just loving right now?"), the laptop tumbles to its demise.
Thus Carrie must head to the Apple store, and she drags Seema along for the errand, both in looks spoiled by the real-life NYC paparazzi months ago. Carrie wears a vintage '80s ski suit, paired with those blue suede Duchessa Gardin boots from last episode, socks, and a pair of purple gloves. Seema, as always, stays neutral in high-waisted brown pants, a long belt, brown turtleneck, a Mongolian fur-adorned coat, and a Mansur Gavriel crossbody bag.
It's at the Apple store where Seema drops the big question: Will you rent a Hamptons house with me? Is is me or do the stakes seem even more pathetically low than usual this episode?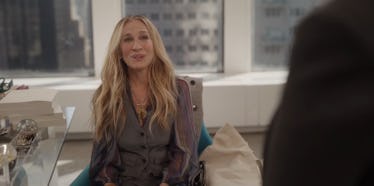 HBO
Once her tech is all in order, Carrie turns her attention to WidowCon (sorry, I mean Life After Death: A Widow's Storytelling Event), where she'll be the keynote speaker, reading an excerpt from her book. It's in prep for the event that Carrie runs into her old "friend" Kerry (née Karen, "Not a great time for white women named Karen"). Carrie and Kerry (wonderful portrayed by Rachel Dratch) apparently have history, though nothing that was ever portrayed on the Sex and the City screen. According to Kerry (because Carrie doesn't remember), their literary agents set them up in the early '90s to write a rom com together. Unfortunately, Carrie didn't show up for their final pitch.
But this is a fashion recap, not a recap of Carrie's poor pre-Y2K decisions, and her look in this scene is one of my favorites. Carrie attends her meeting in a gray corduroy blazer set with a striped blouse underneath. A very fun, '70s-esque look that deserved way more screen time than that ski suit.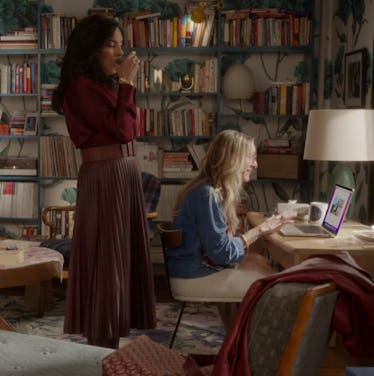 HBO
Carrie and Seema are back to the high stakes discussion of Hamptons houses (to be fair, finding one can be stressful), as they search for their summer home at Carrie's apartment. Seema returns in her chic tonal home base, wearing a pleated, leather burgundy skirt, satin blouse, and belt. Carrie meanwhile, has clearly reached her cute outfit quota for the episode and opts for white cropped pants and shirt featuring a Michael Vollbracht design.
The two chat as Seema attempts to navigate Carrie's laptop, revealing her Gen X nature as she accidentally minimizes a tab and reveals an email Carrie drafted to her ex-fiancé, Aidan. But while Carrie seems eager to explain herself, Seema is uninterested, more pressed to show off the fabulous home she secured in the Hamptons for them (one I assume we will see in a future episode).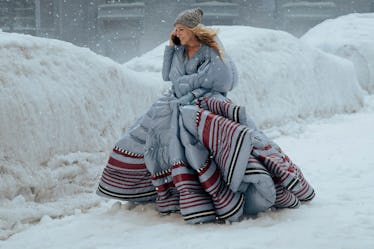 Photograph by Craig Blankenhorn/Max.
It's the morning of WidowCon and a bomb cyclone has hit New York City. Carrie, though, is unwilling to bail, lest she prove to Kerry once again that she is a flake. She drags Che along for support, forcing the comedian to pause their own mourning process following the failed Che Pasa sitcom.
A major storm is obviously the perfect excuse for Carrie to pull out a couture jacket from Moncler's collaboration with Valentino back in 2019 (and pair it with a Kin beanie). "When we were talking about the bomb cyclone, it just popped into my head," the show's co-costume designer Danny Santiago tells W. Of course, the jacket (which is actually made up of three pieces), was created for a six-foot runway model, not the five-foot-three Sarah Jessica Parker. "We had to maneuver it and fix it a little bit so Sarah Jessica could wear it," Santiago recalls. "But she carried it off and made it look effortless."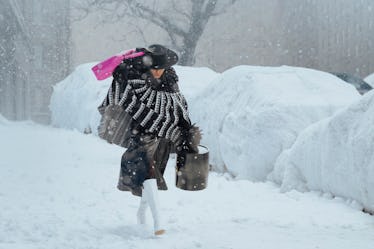 Photograph by Craig Blankenhorn/Max.
LTW, too, isn't about to let her plans get derailed by the bomb cyclone, but for some reason, she rejects her husband's offer to drive her to the event. It's unclear why she'd opt to walk instead of hopping in the Tahoe, but the scene of her trekking in the snow in her black and white Balmain cape, Celine leather skirt, white Dries van Noten boots, Paula Rowan gloves, and a Zorro-like Monrowe hat does evoke the feeling of the Balenciaga fall/winter 2022 presentation. Of course, Lisa holds a bright pink Valentino bag and wig box in her hands as opposed to an $1,800 trash bag.
Photograph by Craig Blankenhorn/Max.
Luckily, LTW makes it through the snow and to MoMA, where she takes the stage to discuss her film, The First But Not the Last. The faux film talk sounds like an interesting one, but I'm more focused on the looks (again, fashion recap). Lisa ditches her poncho and reveals a black, dramatically fringed Dior sweater underneath—a fun, bomb cyclone-appropriate look if I've ever seen one. The moderator, too, is dressed to impress, wearing the Beyoncé-approved Loewe hand-print midi dress with a red turtleneck underneath, and a pair of Tabi boots.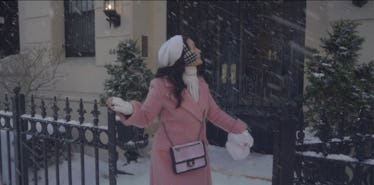 HBO.
Charlotte, meanwhile, is cozy at home watching Edward Scissorhands when she gets a less-than-welcomed call from her daughter. Lily is ready to have sex with her boyfriend, but she doesn't have a condom. So, Charlotte must ditch her red and black plaid onesie for a gorgeous pink wool coat with a pink Chanel bag and her beloved Burberry check in the form of ear muffs to keep Lily from resorting to the pull out method.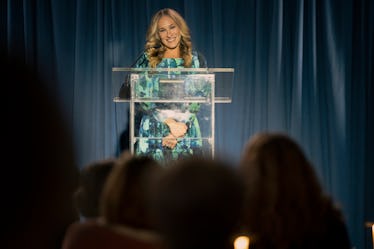 Photograph by Craig Blankenhorn/Max
Once Carrie finally makes it to WidowCom, any confidence that came from donning her extravagant Moncler piece disappears as she coat checks the couture creation and her nerves around getting on stage begin to grow. Che attempts to help by giving Carrie some audience-warming jokes, but in the end, it's unecessary. The widows love Carrie, sucked in by her honest writing and the hypnotic nature of her '80s-style patterned puffed sleeve dress from Converted Closet. The moment is inspiring to the writer, who heads home and decides to hit send on that email to Aidan, meaning we will likely have some Carrie date night looks coming our way in the upcoming episodes.
20th July 2023